March is the Month of Francophonie! Did you know that French is an official language in 29 countries?
Based on the recommendations from public health officials surrounding the COVID-19 virus outbreak, we regrettably have to announce the cancellation of the remainder of events for the Francophonie Festival. This decision comes after much discussion among our committee and Francophone consulates and is, of course, a sad announcement to make for all of us.
We hope to be able to hold some of these events at a later date and will continue to provide updates if new details become available. For the latest information and planned events
please visit:   http://www.francophonieatlanta.org/festival-2020.html
Check out all the events that took place this month as part of Atlanta's Francophonie Festival!
Irish Movie Night: La Dernière Bande / Krapp's Last Tape
Tuesday, March 3, 2020, 6:30 - 9:00 pm | Consulate General of Ireland, 3414 Peachtree Road, Suite 260, Atlanta, GA 30326
Double Screening of Samuel Beckett's play La Dernière Bande with Roland Bertin (in French - no subtitles) followed by the English version, Krapp's Last Tape.
Samuel Beckett translated and directed many of his own plays which were written in French and English. He did not give interviews, but he did grant permission for this filmed record of his own direction of En attendant Godot / Waiting for Godot; Fin de partie / Endgame; La Dernière bande / Krapp's Last Tape. The productions are intended to be films of benchmark productions, rather than film adaptations of stage performances. From the series, Beckett Directs Beckett, these films of productions in the France and the United States were authorized by Samuel Beckett, and directed by Walter D. Asmus.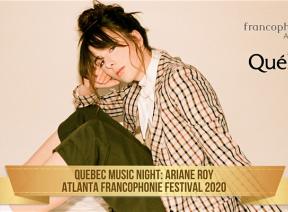 Québec Music Night: Concert by Ariane Roy
Sunday, March 8, 2020, 7:00 - 9:00 pm | Alliance Française of Atlanta, 1201 Peachtree St NE, Building 400, Suite 1104, Atlanta, GA 30361
Québec City (Québec, Canada) musician Ariane Roy proposes a pop/soul alternative project. She is known to be contrasting, free and spontaneous. Singer and guitarist, she plays with her voice and words with a sometimes soft, sometimes harsh poetry. Ariane performs primarily in French, with some material in English.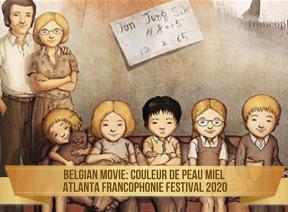 French-Belgian Movie Night: Couleur de Peau: Miel
Tuesday, March 10, 2020, 7:00 - 9:00 pm | Alliance Française of Atlanta,1201Peachtree St NE, Building 400, Suite 1104, Atlanta, GA 30361
Screening of the film "Couleur de Peau: Miel" (English: "Approved for Adoption"), 2012, 70 min. In French, with English subtitles.
French-Belgian animated memoir by Laurent Boileau and Jung Sik-jun.
This remarkable animated doc traces the unconventional upbringing of the filmmaker Jung Henin, one of thousands of Korean children adopted by Western families after the end of the Korean War. It is the story of a boy stranded between two cultures. Sepia-toned animated vignettes - some humorous and some poetic - track Jung from the day he first meets his new blond siblings, through elementary school, and into his teenage years, when his emerging sense of identity begins to create fissures at home and ignite the latent biases of his adoptive parents. The filmmaker tells his story using his own animation intercut with snippets of super-8 family footage and archival film. The result is an animated memoir like no other: clear-eyed and unflinching, humorous and wry, and above all, inspiring in the capacity of the human heart.
Below are the list of Francophonie events that got cancelled this month as a precaution to help reduce the spread of COVID-19 in the community.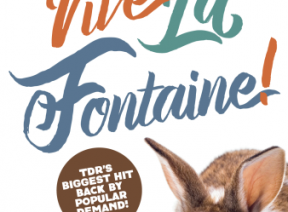 Vive la Fontaine! by the Théâtre du Rêve: Cancelled
Saturday, March 14, 21, 28, 8pm | Sunday, March 15, 22, 29 at 3pm | Friday, March 20, 27 at 8pm | Back Stage Black Box, 1105 Euclid Ave, Atlanta , GA
Circus, song, and puppetry merge in this whimsical retelling of the fables of Jean de La Fontaine, in French and English. TdR's biggest hit,
back by popular demand!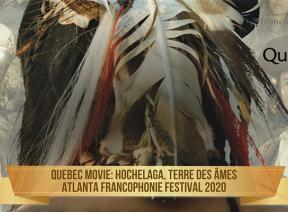 Québec Movie Night: Hochelaga, Terre des Âmes: Cancelled 
Tuesday, March 17, 2020, 7:00 - 9:00 pm | Alliance Française of Atlanta,1201Peachtree St NE, Building 400, Suite 1104, Atlanta, GA 30361
Screening of the film "Hochelaga, Terre des Âmes" (English: "Hochelaga, Land of Souls), Québec, 2017, 100 min. In French, with English subtitles.
Historical drama from award-winning director François Girard and starring famous Swiss actor Vincent Perez.
Synopsis: A tremendous downpour hits Montreal, and a spectacular sinkhole opens up at Percival Molson Stadium in the middle of a football game. Centuries of history are revealed beneath the field. Mohawk archaeologist Baptiste Asigny begins investigating and he will discover the multitude of generations who have occupied this land, each with buried secrets.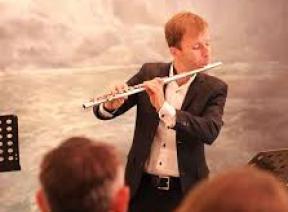 Free Acoustic Concert with Matthieu Clavé - French Flutist & Pianist: Cancelled
Wednesday, March 18, 2020, 11 - 1pm | ATL Airport Domestic Terminal Atrium
Born and raised in the South-West of France, in a small town called Mont de Marsan, situated in the very heart of la forêt landaise, Matthieu Clavé's passion for music started at a very young age. At the age of 9, his parents enrolled him in the local music conservatory, le conservatoire des Landes, where he earned, after several years of studies the Premier Prix (Bachelor of Music).
​
After his graduation, Matthieu moved to Paris and studied at l'Ecole Normale de Musique de Paris where he earned a Master's in Music Performance and Pedagogy under the tutelage of flutist Pierre-Yves Artaud.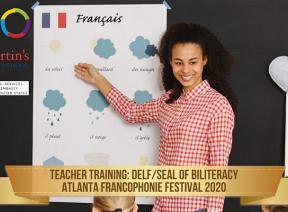 French Teacher Training: DELF & Seal of Biliteracy: Cancelled
Saturday, March 21, 2020, 9:00 - 3:00 pm | St. Martin's Episcopal School, 3110-A Ashford Dunwoody Road, Atlanta, GA 30319
This workshop is intended only for French teachers and coordinators.
It's about the DELF (Diploma of Studies in French Language), the preparation of the pupils, tools for the teachers and to place this certification in the context of the Seal of Biliteracy. Participants are invited to take part in the discussions.
Swiss Music Night: Concert by Baron.e: Cancelled
Wednesday, March 25, 2020, 6:00 - 8:00 pm | Venkman's, 740 Ralph McGill Boulevard Northeast, Atlanta, GA 30312
Created at the beginning of 2019, Baron.e (French for Baron and Baroness) is a French-speaking Swiss musical duo. Influenced first by rock in all its forms and then by current French-speaking pop music, these two 22-year-old friends very quickly created a musical and textual universe in line with themselves and their era, where a wide range of influences can be felt. Baron.e generates a French-speaking electro-pop or indie pop form, which emanates a "festive melancholy" or a "violent fragility"; so many oxymorons are captured in the audience during the concerts of the two young artists.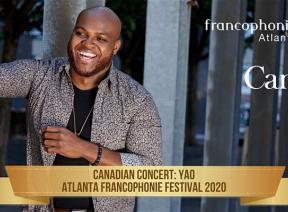 Canadian Music Night: Concert by Yao: Cancelled
Saturday, March 28, 2020, 7:00 - 9:00 pm | Alliance Française of Atlanta,1201Peachtree St NE, Building 400, Suite 1104, Atlanta, GA 30361
With his deep baritone voice, Yao charms us into us in his warm poetic world by his bold creativity. His musical style crosses over Slam and Soul, emphasized by Groovy, Funk and Pop sounds. True to his rich, visual and rhythmic writing with a unique vulnerability, Yao offers sophisticated lyrics in a personal show, somewhere in between the powerful performance of French rapper Oxmo Puccino and the intimate lyricism of Leonard Cohen. After several tours overseas (France, Belgium, Madagascar, Algeria, Tunisia and Morocco…) Yao is eager to meet a new audience in Atlanta!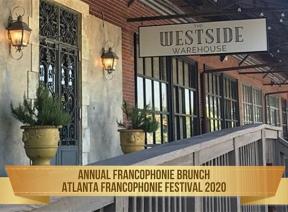 Annual Francophonie Brunch & Fashion Show: Cancelled
Sunday, March 29, 2020, The Westside Warehouse, 996 Huff Road Northwest, Atlanta, GA 30318
Celebrate Francophone cultures and gastronomy at Atlanta's annual Francophonie Brunch at the unique Westside Warehouse, in the heart of Atlanta's west-midtown creative district, boasting soaring cathedral ceilings, handcrafted rustic details and antique French doors.
You will be able to taste culinary specialties from the Francophone world in a friendly environment. You will also discover the colorful designs of Ivorian designer Fa'ody during an exclusive fashion show.