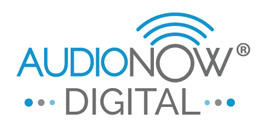 Radio France Internationale (RFI), the French current affairs radio station that broadcasts worldwide in French and 12 foreign languages, and AudioNow® Digital, a leading provider of in-language mobile apps for radio broadcasters, today announced the launch of "RFI by AudioNow® Digital" with audio content in twelve RFI broadcast languages.
With this launch, and for the first time ever, listeners in the U.S. can choose to hear RFI broadcasts by streaming or through a call that uses mobile minutes.  The free app is available now for iPhone and iPad in the Apple Store and on Android phones and tablets in Google Play in the U.S., with additional countries to follow in the year ahead.
Through the app, listeners can access on-demand RFI news bulletins, in Brazilian & Portuguese, Cambodian, Chinese, English, French, Hausa, Persian, Romanian, Russian, Spanish, Swahili and Vietnamese. They also can listen to RFI 24/7 live streams in French and Romanian.
"What we've heard from broadcasters is that they no longer want to just 'push' audio content to listeners," said Elan Blutinger, Chairman and CEO of AudioNow® Digital. "Instead, they want to form a two-way information channel where they fully engage their audience. We're thrilled to launch this next generation audio app with RFI."
"This new, free app is the perfect complement to AudioNow's very successful call-to-listen service for RFI," said Pompeyo Pino, Director Radio Americas, at RFI. "We are launching in the United States to build on our mutual success here, but fully expect to expand distribution in the months ahead. "
The app's additional features provide an immersive experience that expands audience participation and communication: listener-controlled bandwidth management; push notifications from the station; social share functionality among listeners; and, in a future release, flash polling as well as video.
"RFI by AudioNow® Digital" is a multi-language mobile application powered by AudioNow® Digital, following the success of initial single-language apps in 2013. 
From now on, there are specific phone numbers to listen to each language offered by RFI in the US. An easy way to listen to the last news, to the live or to other programs:
RFI in French: (712) 432-9927RFI in English: (712) 432-8040RFI in Mandarin: (712) 432-8885RFI in Hausa: (712) 432-6655RFI in Swahili: (712) 432-7755RFI Persian: (712) 432-6670RFI in Spanish: (712) 432-8887RFI in Vietnamese: (712) 432-8055RFI in Portuguese: (712) 432-8877RFI in Khmer: (712) 432-8058RFI in Russian: (712) 432-7766RFI in Romanian: (712) 432-8053