To mark Bastille Day this year, without the traditional fanfare, parades and parties that we are used to, what better way than to choose a book, pause and reflect on yesterday's and today's debates on liberty, social movements, and activism? Those were questions at the core of the French Revolution and what immediately ensued, and they remain as timely as ever. Here are some ideas to replace the customary fireworks with some master works to feed your thoughts are the founding principles of the French Republic : liberty, equality and fraternity and how they apply to our current discussions on diversity and beyond. 
---
Black Skin, White Masks by Frantz Fanon (Grove Press, 2008, Tr. by Richard Philcox)
A major influence on civil rights, anti-colonial, and black consciousness movements around the world, Black Skin, White Masks is the unsurpassed study of the black psyche in a white world. Hailed for its scientific analysis and poetic grace when in 1952, the book, from one of the most important theorists of revolutionary struggle, colonialism, and racial difference in history, remains a vital force today. '
Book in French  // Book in English
---
Our Riches by Kaouther Adimi (New Directions, 2020, Tr. by Chris Andrew)
The great publisher Edmond Charlot opened Algiers's bookstore Les vraies richesses and spent a great deal of time publishing new and under-appreciated authors. One of his first offerings to the world was the debut of none other than Albert Camus. Cutting brilliantly from the 1930s to current times, from WWII to the bloody 1961 Free Algeria demonstrations in Paris, Adimi delicately packs a monumental history of intense political drama into her swift and poignant novel. But most of all, it's a hymn to the book and to the love of book.
Book in French // Book in English
---
Return to my Native Land by Aimé Césaire (Archipelago books, 2014, Tr. by John Berger Anna Bostock)
A work of immense cultural significance and beauty, this long poem became an anthem for the African diaspora and the birth of the Negritude movement. With unusual juxtapositions of object and metaphor, a bouquet of language-play, and deeply resonant rhythms, Césaire considered this work a "break into the forbidden," at once a cry of rebellion and a celebration of black identity.
Book in French // Book in English
---
Trop noire pour être Française by Isabelle Bonie Claverie (Tallandier 2017, translation pending)
Isabelle Boni-Claverie 's memoir it a powerful account of what it is to be Black in a world where the norm is white. It offers an American readership rare insights into the differences and similarities of racial dynamics in France and the US. Like Ta-Nehisi Coates's Between the World and Me, Trop Noire pour être française is at once a sociological portrait of France, a multicultural family album, and a transatlantic coming-of-age story.
---
Afrotopia by Felwine Sarr (University of Minnesota Press, 2020, Tr. by Drew S. Burk)
In a vibrant meditation and poetic call for an African utopian philosophy of self-reinvention for the twenty-first century, Felwine Sarr takes the reader on a journey demanding an elevation of the collective. He urges Africa to set out on an active reflection on the continent's vast mythological universe and ancient traditions, to nourish a cultural reinvention, and embrace green technologies for tackling climate change and demographic challenges.
Book in French // Book in English
---
The Punishment by Tahar ben Jelloun (Yale University Press, 2020, Tr. by Linda Coverdale)
In 1967 Tahar Ben Jelloun, a peaceful young political protestor, was one of nearly a hundred other hapless men taken into punitive custody by the Moroccan army. This powerful portrait of the narrator's traumatic experience, written with a memoirist's immediacy, reveals both his helpless terror and his desperate hope to survive by drawing strength from his love of literature.
Book in French // Book in English
---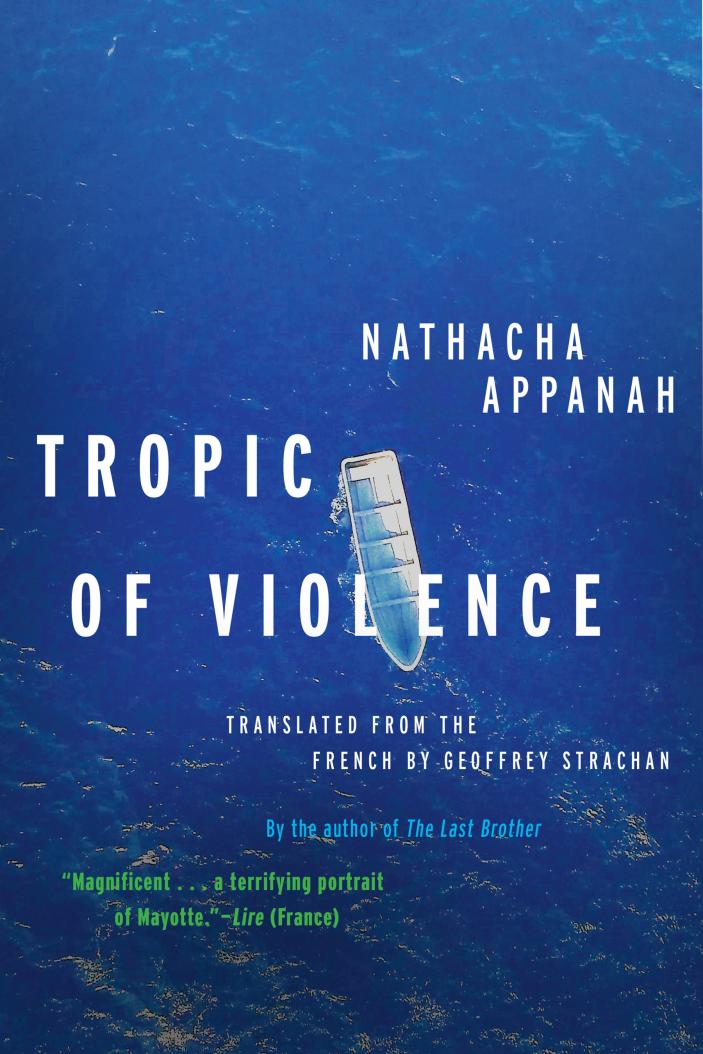 Tropic of Violence by Nathacha Appanah (Graywolf Press, 2020, Tr. by Geoffrey Strachan)
Marie, a nurse in Mayotte, adopts Moïse, a baby abandoned at birth by his mother. When she suddenly dies, thirteen-year-old Moïse is plunged into turmoil, he runs away from home, and sets himself on a collision course with a gang of the most infamous slum on the island. In a moving portrayal of the desperation and inequality that are driving refugee crises across the world, Appanah narrates the heartbreak, violence, and injustice of life in Mayotte.
Book in French // Book in English
---
Necropolitics (Theory in Forms) by Achille Mbembe (Duke University Press, 2019)
Achille Mbembe theorizes the genealogy of our contemporary world, plagued by ever-increasing inequality, militarization, enmity, and terror as well as by a resurgence of racist, and nationalist forces. He outlines how democracy has begun to embrace its dark side which is based on the desires, fears, affects, and violence that drove colonialism. This shift has eroded the very values, rights, and freedoms liberal democracy routinely celebrates. Despite a dire diagnosis, Mbembe explores how new conceptions of the human that transcend humanism would allow us to encounter the Other as a person with whom to build a more just world.
---
The Wondrous and Tragic Life of Ivan and Ivana by Maryse Condé, (World Editions, 2020, Tr. by Richard Philcox)
Born in Guadeloupe, Ivan and Ivana are twins with a bond so strong they become afraid of their feelings for one another. When their mother sends them off to live with their father in Mali they begin to grow apart, until, as young adults in Paris, Ivana joins the police academy while Ivan walks the path of radicalization. The twins become perpetrator and victim in a wave of violent attacks. Maryse Condé, one of the major French language author of our times, touches upon major contemporary issues such as racism, terrorism, political corruption, economic inequality, globalization, and migration.
Book in French // Book in English