Julia Deck became an overnight literary sensation when Viviane was published in France in 2012. Viviane is one of very few debut novels to come out of the major French publishing house Les Editions de Minuit in a generation. Critics have praised the murder mystery for its gripping plot and compelling psychological insight.
Deck is a freelance editor for various publications, including Livres Hebdo, a weekly trade magazine for the publishing industry. Previously, she worked as a copywriter for an advertising agency and as a publishing reader of foreign literature in Paris and New York. She has a degree in liberal arts from the Sorbonne, as well as a degree in journalism.
---
BIBLIOGRAPHY
In English
Viviane (published originally as Viviane Elisabeth Fauville in French), The New Press, March 2014, translated by Linda Coverdale
In French
Viviane Elisabeth Fauville, Les Editions de Minuit, 2012
Le Triangle d'Hiver, Editions de Minuit, 2014
MORE ABOUT DECK'S BOOKS
---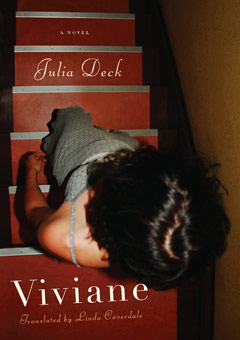 Viviane
Translated by Linda Coverdale
The New Press, 2014
 (French Voices Grant, 2014)
   The eponymous character is a woman who, in her middle age, has been left by her husband and is beginning to feel obsolete in her communications job. At the beginning of the book, we learn she has recently stabbed her psychoanalyst to death. In the following days, Viviane stalks her psychoanalyst's closest friends and is interrogated by the police, who begin to suspect her more and more.
 Viviane was nominated for the Prix Femina, the Prix France Inter, and the Prix du Premier Roman for a first novel.
Le Triangle d'Hiver
Les Editions de Minuit, 2014
In Deck's second novel, an ambitious young woman who is struggling with debt moves to another town under a new identity. Posing as novelist Bérénice Beaurivage, she falls in love with a very attractive engineer. As the young woman struggles to maintain the illusion of her alter ego, she is threatened by her rival, the journalist Blandine Lenoir, who is determined to expose her.
Le Triangle d'Hiver was nominated for the Prix du Roman Fnac.