Emmanuelle Loyer is a historian and author of the masterful biography of anthropologist Claude Lévi-Strauss, whose work was key in the development of the theory of structuralism and structural anthropology.
---
Emmanuelle Loyer is a historian and Professor of Contemporary History at Sciences Po Paris. Specializing in the cultural history of contemporary societies, she leads the seminar on cultural history in Sciences Po's Research Master's degree. At the Center for History at Sciences Po, she has been the head of two research groups: "Cultural history" since 2001 and "Transnational cultural circulations: institutions, knowledge, practices" since January 2010. Emmanuelle Loyer is also producer for the radio network France Culture, and is a regular contributor to the show "Tout arrive" hosted by Arnaud Laporte. She is the editor of the La revue Tocqueville. Her published works include Paris à New York. Intellectuels et artistes français en exil, Histoire du Festival d'Avignon, Mai 68 dans le texte, and Claude Lévi-Strauss, which was awarded the Prix Femina essai in 2015.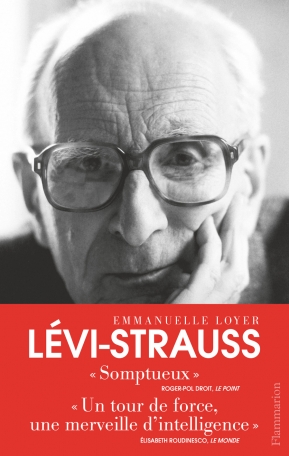 About Claude Lévi-Strauss (Flammarion 2015, forthcoming publication in English by Polity Books in Oct. 2018
Claude Lévi-Strauss was born in 1908 and died a centenarian, in 2009, close to us, his 21st century readers. He was raised in a bourgeois Jewish family. While father was a painter and handyman, he chose the path of philosophy and socialist activism. After earning his teaching credentials, he left France to teach sociology in Sao Paolo. Throughout his expeditions in Brazil he became an ethnologist, discovering the Indian "Other." He moved to America in 1941 and became Professor Claude L. Strauss – so that he wouldn't be confused with the jean manufacturer. This biography describes the birth of a new way of thinking, in the context of a century turned upside down by history: the energy of new beginnings in Brazil and the effervescence of the world of European exile in New York, between surrealism and the birth of structuralism. His return to France, after the war, marked his time for writing, numerous decades of intense labor during which Lévi-Strauss reinvented anthropology. In 1955, Tristes Topiques was the resounding proof of his accomplishments, first in France and then worldwide. This biography underscores the anthropologist's political and intellectual eccentricity. His decentralized life with regards to Europe, his comings and goings between the old and new worlds, and his fondness for elsewhere render Lévi-Strauss an unforgettable voice who invites us to rethink man's problems and our sense of progress.
---
Program Full
Additional details will be provided shortly.
OCT 9: New York University
OCT 10: Princeton University
OCT 11: Columbia University
OCT 12: Columbia University
OCT 15: Harvard University
OCT 16: MIT
OCT 17: Dartmouth College
---
TO BOOK AN EVENT WITH THE AUTHOR
Note that we have limited funding available for our tours. Please let us know if you would be able to arrange for domestic travel to/from the event. If you would like to invite this author to speak at your university or bookstore, please fill out the application form and email it to Anne-Sophie Hermil.
french-authors-application.doc