Here are some suggestions from the Cultural Services' Film Department to help you find holiday gifts for your cinephile niece, hard-to-please cousin, curious neighbor (or yourself––so you can spend more time at the movies!) 
Film Package to Varda: A Retrospective at Film at Lincoln Center
Film at Lincoln Center presents a career-spanning retrospective of Agnès Varda. Varda's daughter and producing partner, Rosalie Varda, will join audiences in person for select screenings. Dec 20 - Jan 6, 2020. 
The 3+ Film Package lets you see any 3 or more films for a reduced price.
 Betty Blue by Jean-Jacques Beineix (1986)
When the easygoing would-be novelist Zorg (Jean-Hugues Anglade) meets the tempestuous Betty (Béatrice Dalle, in a magnetic breakout performance) in a sunbaked French beach town, it's the beginning of a whirlwind love affair that sees the pair turn their backs on conventional society in favor of the hedonistic pursuit of freedom, adventure, and carnal pleasure. But as the increasingly erratic Betty's grip on reality begins to falter, Zorg finds himself willing to do things he never expected to protect both her fragile sanity and their tenuous existence together. Adapted from the hit novel 37°2 le matin by Philippe Djian, Jean-Jacques Beineix's art-house smash—presented here in its extended director's cut—is a sexy, crazy, careening joyride of a romance that burns with the passion and beyond-reason fervor of all-consuming love.
Available at Criterion - French with English subtitles on Blu-Ray ($31.96) and DVD (23.96)
French new wave a revolution in design by Christopher Frayline 
French New Wave: A Revolution in Design celebrates explosive and groundbreaking poster art that accompanied French New Wave films like The 400 Blows (1959), Jules and Jim (1962) and The Umbrellas of Cherbourg (1964). Featuring posters from over 20 countries, the imagery is accompanied by biographies of more than 100 artists, photographers and designers involved--the first time many of those responsible for promoting and portraying this movement have been properly recognized.
Available at Albertine per request.
Olivia by Jacqueline Audry (1950) 
 
Presented at Films on the Green' 19, OLIVIA is a remarkable work by one of France's ground-breaking female filmmakers, Jacqueline Audry. Set in a gothic (somewhat reminiscent of Hitchcock's REBECCA) 19th century boarding school for young girls, and while not addressing lesbianism directly, it is the story of the two mistresses of the house, their competition for the affections of their students, and the students discovery of the dangerous game of love and attraction.
Available on Distrib Films US - French with English subtitles on Blu-Ray ($22.99) and DVD ($19.89)
Godard Tote Bag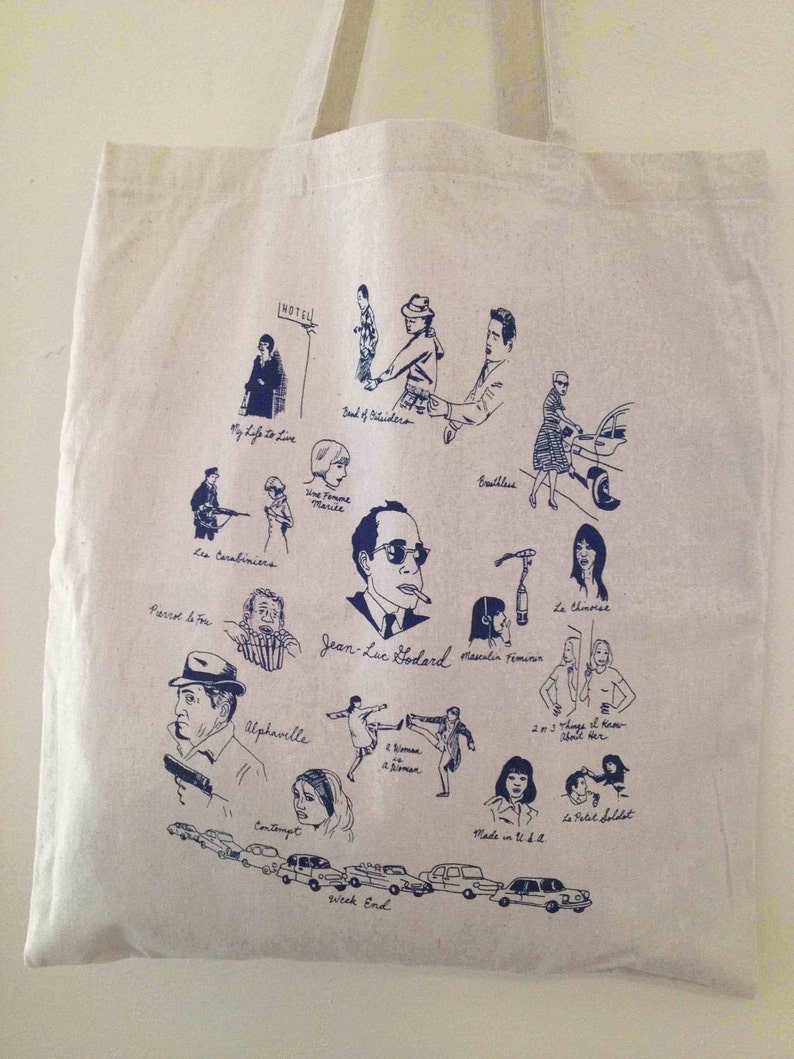 A tote featuring Jean-Luc Godard and scenes from 15 of his French New Wave movies.
Available on Etsy ($20.00)
Suite for Barbara Loden by Nathalie Léger
For acclaimed French writer Nathalie Léger, the mysteries of Wanda launched an obsessive quest across continents, into archives, and through mining towns of Pennsylvania, all to get closer to the film and its maker. Suite for Barbara Loden is the magnificent result.
Available at Metrograph Bookstore ($16.00)
A Faithful Man by Louis Garrel
Nine years after she left him for his best friend, journalist Abel (Louis Garrel) gets back together with his recently widowed old flame Marianne (Laetitia Casta). It seems to be a beautiful new beginning, but soon the hapless Abel finds himself embroiled in all sorts of drama: the come-ons of a wily jeune femme (Lily-Rose Depp), the machinations of Marianne's morbid young son (Joseph Engel), and some unsavory questions about what exactly happened to his girlfriend's first husband. Shifting points of view as nimbly as its players switch partners, the sophomore feature from actor/director Louis Garrel—co-written with the legendary Jean-Claude Carrière—is at once a beguiling bedroom farce and a playful inversion of the patriarchal tropes of the French New Wave.
Available at Kino Lorber-  French with English subtitles on Blu-Ray ($20.97) and DVD (17.97)
Eat What You Watch: A Cookbook for Movie Lovers
Many of our favorite movies come with a side of iconic food moments; this cookbook recreates iconic food scenes and many more. With recipes from more than 40 classic and cult films, Eat What You Watch is the perfect gift for both movie buffs and home cooks who want to add some cinematic flair to their cooking repertoire.
Available at Barnes & Noble ($22.50)