Cannes XR, Newimages Festival (Paris) and Tribeca Festival are teaming up to co-produce a new virtual space: XR3, a unique exhibition platform to present the best of VR creation. It will bring together around 50 works in virtual reality including many world premieres, resulting from the expertise and curation of each event to explore the field of immersive arts. Tribeca (June 9 - 20) and NewImages (June 9 - 13) will also be bring back in-person VR events in New York and in Paris. They just unveiled their selection of augmented, virtual, and mixed reality experiences. There are some great French (co)productions you should be excited about...
If you are a professional working in digital experiences, have a look at Digital Crossroads, a new program and platform by the Institut français to attend online French festivals and meet with artists and experts from all over the world!
[TRIBECA IMMERSIVE] Republique, The Interactive Movie 

Republique is an interactive film that plunges the participant into the emotions felt during an attack in the Paris Metro through three parallel storylines, letting you switch from one to another.
Project Creators: Simon Bouisson, Olivier Demangel - Key Collaborators: David Bigiaoui, Sara Brucker - Cast: Noémie Merlant, Lyna Khoudri, Jean-Baptiste Lafarge - Producers: Cinétévé & Experiences Films - Runtime: 40 to 75min 
---
[TRIBECA IMMERSIVE] Inside Goliath
A visual installation and VR experience, Inside Goliath is an intimate and visually compelling narrative of one man's experience of living with schizophrenia and psychosis.
Project Creators: May Abdalla, Barry G. Murphy - Key Collaborators: Dr. Michael Golembewski, Xandi Adderley, Armando Sepulveda, Leon Denise, Oliver Bancroft - Producer: Floréal Films
---
[TRIBECA IMMERSIVE] Madrid Noir
With her uncle (Fernando Guillén Cuervo) declared dead, a disenchanted young woman (Godeliv Van Der Brandt) must delve into her memories to pick up his shadowy trail. Solving mysteries ain't easy in a city lost to time.
Project Creators: James A. Castillo - Key Collaborators: Antoine Cayrol, Luke Gibbard, Arnaud Colinart, Lawrence Bennett, Corentin Lambot, Craig Skerry, Dash Spiegelman, Yelena Rachistky, Albyon - Producer: Atlas V 
---
[TRIBECA IMMERSIVE] Missing Pictures Episode 2: Tsai Ming-liang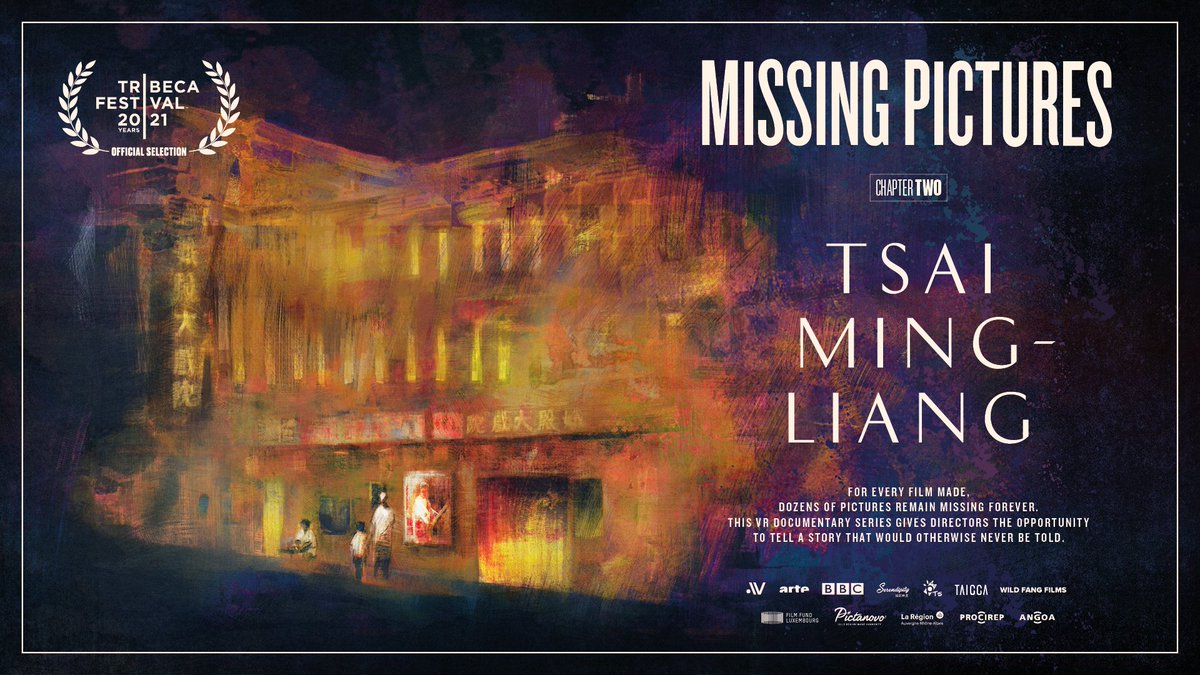 Missing Pictures is an immersive documentary series that delves into the stories that were never able to make it on the screen. In this episode, viewers meet Taiwanese director Tsai Ming-Liang.
Project Creators: Clément Deneux - Key Collaborators: Kuan-Yuan LAI - Producer: Atlas V 
---
[TRIBECA IMMERSIVE] The Passenger: The Kid
The Passengers is the story of strangers on a train who all have one thing in common: they are all facing a pivotal moment in their lives. Their real journey is internal and it is you who will embark on it, taking their place to help them make a crucial decision. 
Project Creators: Ziad Touma, Nicolas Peufaillit, Robert Hospyan, Coralie Majouga, yako (Jean-Christophe Yacono), Camille Duvelleroy - Key Collaborators: Oriane Hurard, Karen Vanderborght, Dpt, Mocaplab, Post-Moderne, Novelab, Maxim Roy, Sébastien Chassagne, Évelyne Istria, Ethann Bergua-Isidore - Producer: Les Produits Frais 
---
[TRIBECA IMMERSIVE & NEWIMAGES] Jailbirds - Bwa Kayiman
A fantastic tale about the price to pay for freedom. In the modern hell prison of Bwa Kayiman, one inmate, Felix, is always happy and serene, despite the suffering he endures. This infuriates the vicious Chief-Warden that does everything he can to discover Felix's secret.
Lead artist: Thomas Villepoux - Producers: Be Revolution Pictures, Digital Rise - Cast: Tómas Lemarquis, Elliot Delage, Barry Johnson (voices)
---
[TRIBECA IMMERSIVE & NEWIMAGES] We Are at Home
"What does the hangman think about when he goes home at night from work?" We Are At Home is a VR installation based on the poem The Hangman at Home by Carl Sandburg.
Project Creators: Michelle Kranot, Uri Kranot - Key Collaborators: Morten Andersen - Cast: Michelle Kranot (voice) - Runtime: 45min - Producer: Floréal Films 
---
[NEWIMAGES] Acqua Alta - Crossing the Mirror
"Acqua Alta - Crossing the Mirror" is a pop-up book whose drawings and paper volumes are the décor of a story, visible in augmented reality. Looking through a tablet or smartphone, the ten double-pages of the book become the stage to a short dance performance, thanks to a custom-made application. In a simple graphic stroke, drawings and folded paper come together to reveal the virtual life of a woman, a man, a house. It is the story of a catastrophe and a dive into the imaginary realms of water.
Lead artists: Claire Bardainne, Adrien Mondot - Producers: Adrien M and Claire B - Runtime: 15min 
---
[NEWIMAGES] Berlioz Trip AR - Dream of a Sabbath Night
"Berlioz Trip AR" is a 360 acoustic experience that allows you to go into the Hector Berlioz's masterpiece and to physically walk around a symphonic orchestra. Legend has it that Berlioz would have composed his work in a few nights. And he would have been beset by visual and sound hallucinations! Grab your magical lantern and immerse yourself in this phantasmagorical forest. Chimeras have caught instruments of the orchestra. So, release them and complete Berlioz's "Symphonie fantastique"!
Lead Artists: Pyaré (Pierre Friquet), Solveig (Géraldine Aliberti) - Producers: Sonic Solveig, Les Clés de l'écoute - Cast: Kelly Rivière (voice) - Runtime: 15min 
---
[NEWIMAGES] Biolum
"Biolum" is an interactive, narrative VR sci-fi experience which immerses you in the mysterious beauty of deep sea life on a dive that takes a shocking turn for the worse.
Lead artists: Abel Kohen (writer, director), Jon Rowe (co-writer) - Producers: IKO, Reynard Films, Prefrontal Cortex - Cast: Charlotte Rampling, Dominique Tipper (voices) - Runtime: 30min 
---
[NEWIMAGES] Lady Sapiens, The Experience
You are Lady Sapiens. You were born 38 000 years ago. As you leave your valley, you meet a huntress who leads you to her clan. A shaman inspire you to bring your personal touch to a cave painting. In her village, you are offered to carve a flint to make your own spear. Finally, equipped with your weapon, you are invited to take part in an impressive collective mammoth hunt. No, women were not harvesting while men hunt. Welcome to the Palaeolithic era.
Lead artist: Camille Duvelleroy - Producers: Little Big Story (production), Little Big Story Lab, France Télévisions, Ubisoft (coproduction), Lucid Realities (international sales) - Runtime: 12min 
---
[NEWIMAGES] Kinshasa Now
35,000 kids abandoned by their families following witchcraft allegations are doing their best to survive on the streets of Kinshasa, Congo. One night, fourteen-year-old Mika must suddenly come to terms with this terrible situation and learn the rules of the street to survive, find food and shelter, and, even most importantly, fit in.
Lead artist: Marc-Henri Wajnberg - Producers: Wajnbrosse Productions, Wim Forceville, RG and Créatifs Associés, Eva Production - Cast: Mika Bangala, Chancelvie Kaponge, David Lemba, Vainqueur Kanga, Patrick Makamlbo - Runtime: 21min 
---
[NEWIMAGES] When She Gets Out ...
"When She Gets Out" is an augmented reality experience in which Edgar Degas' Little Dancer brings children along a fantastic journey through artworks displayed in museums. Her playful silhouette strolls around paintings, drawings, sculptures and many other magical worlds created by artists, looking onto them with a naive and enchanted gaze.
Lead artists: Gordon, Marie Sellier - Producers: Lucid Realities, coprod. Musée d'Orsay, France Télévisions - Cast: Claire Bouanich, Xavier Lacaille, Anne Alvaro, Céline Ronte, Clément Moreau, Françoua Garrigue, Odja Ilorca, Fanny Mary, Darina Al Joundi - Runtime: 28min