The Cultural Services of the French Embassy, in partnership with FACE Foundation, is pleased to announce the 2020-2021 grantees of Jazz & New Music program.
This year, the COVID-19 pandemic has impacted all countries and continues to deeply affect people all over the world. The artistic and cultural sector has been hit particularly hard by the public health crisis. Today, more than ever, the Cultural Services of the French Embassy and the FACE Foundation are proud to promote and support artistic performances through the Jazz & New Music program.
This program – a merger between two former programs: FAJE and New Music – is designed to encourage the creative and professional development of French jazz and contemporary composers, musicians, and ensembles in the United States. In 2020, 19 creative, touring, and residency grants for a total of $132,000 have been awarded, with all performances to be presented in 2021.
"Creative Grants" are supporting projects resulting in the creation of new works by American and French composers and musicians.
Among these projects, the Grossman Ensemble Spring 2021 Workshops & Concert is a collaboration between the Grossman Ensemble, the Chicago Center for Contemporary Composition at the University of Chicago, and French composer Frédéric Durieux for a new concert cycle. Frédéric Durieux will create a new work for this ensemble that will be performed at the Logan Center for the Arts (to be conducted by Vimbayi Kaziboni). Over the course of short residencies, he will present his work to students and fellow composers as part of seminars or workshops. In Chicago, The Bridge #2.05 will present a new creation initiated by French pianist Sophie Agnel through two mini-residencies, concerts and tours. This collective project will use improvisation to transcend the boundaries between acoustics and electronics as a fusion of the traditional and the modern.
In partnership with the cultural center, Pioneer Works, Lorenzo Bianchi-Hoesch, and Amir ElSaffar will develop Inside Spaces, a new project exploring electro-acoustic spaces. The two artists aim to do a premiere, release an album, and prepare for a US and European tour. Saxophonist Jacques Schwarz-Bart in collaboration with French, American, and Canadian musicians such as Malika Tirolien, Arnaud Dolmen, or Reggie Washington, will record and tour his album Sone Ka-La 2 as well as organize various educational projects in the U.S. and in France. 
Christophe Panzani and Keith Witty's project is to compose, record, and present THIEFS's third album with David Frazier Jr., Edgar Sekloka, and Guillermo E. Brown. This new album will be based on the concept of "survivalism" and will be developed between Paris and New York. Raphael Pannier will also record a new album Ami crossing genres between jazz and electronic music with Miguel Zenon, Francois Moutin, and Giorgi Mikadze. Finally, Laura Perrudin and Ian Chang will develop the project Scraps of Herbarium consisting of two phases: a composition and rehearsal phase, followed by a series of performances in the U.S.
Grossman Ensemble © Grittani Creative
This year, seven "Touring Grants" were awarded to French ensembles and musicians to promote touring projects in the U.S.
Ensemble Court-circuit with Ensemble ECCE and conductor Jean Deroyer have planned a new American tour with concerts at Clark University and Tufts University among other places. Court-circuit will then be hosted in the Buffalo and Tufts Universities for workshops and concerts before pursuing its tour in Canada. Ensemble Variances is also preparing its fourth North American tour with composer Thierry Pécou and will present concerts and a residency, as well as outreach programs on ecology in Michigan, Los Angeles, Santa Monica, Vancouver, Montréal and Washington DC.
Across three public performances, ISSUE Project Room (New York) and Constellation (Chicago) will present the Sounding Limits tour, an East Coast and Midwestern premiere of Pascale Criton's pioneering work. Pascale Criton's performances will be complemented by lectures at Columbia University and the University of Chicago. OASIS (Olivier Abbasi Sound In Sound) is the name of the new project fusing groove and improvisation by Isabelle Olivier and Rez Abbasi. After having received an exceptional welcome in Paris, New York, Chicago, and Washington DC, OASIS's new tour is now settled on both sides of the Atlantic with local musicians.
TrioPolycordes is a collaboration between Florentino Calvo, Jean-Marc Zvellenreuther, and Sandrine Chatron playing plucked string instruments and exploring the contemporary repertoire. At the beginning of 2020, they premiered in France and they now intend to introduce their creations to the American public with their first U.S. tour. The dynamic OZMA ensemble has planned its first tour in the U.S. with concerts presenting the quintet's new repertoire and 7th album Hyperlapse as well as workshops in universities and music schools. Finally, Richard Bonnet Trio, Tony Malaby, and Sylvain Darrifourcq, composing organic music inspired from "nature writing", will also perform concerts, a movie live performance, and a masterclass in Indiana.
TrioPolycordes © Stéphane Vandenplas
The Jazz & New Music program also supports French artists through "Residency Grants".
Boston Conservatory at Berklee will host members of the Ensemble Intercontemporain for a short residency with new music concerts, masterclasses, a recorded reading session of student composer works, coaching sessions, and workshops with composers and performers students. Quatuor Diotima will be the 2021-2022 Don Michael Randel Ensemble in Residence at the University of Chicago: during short residencies, the quartet will engage with students and faculty while giving public performances and taking part in a lecture-demonstration. The State University of New York at Buffalo has invited HANATSUmiroir for a residency at the Robert and Carol Morris Center for 21st Century Music where the ensemble will offer masterclasses, workshops, and public performances.
Lê Quan Ninh in collaboration with Nameless Sound will use his residency to foster collaborative work at the crossroads of composed music and free improvisation. The Nameless Sound Large Ensemble will also explore two new pieces in Lê Quan's Blocs d'Incidence series, to be performed in the United States for the first time. Renaissance Arts Academy in Los Angeles will welcome the jazz trio Constant Stranger (Richard Sears, Martin Nevin and Guilhem Flouzat), electronic composer Clément Edouard, singer Isabel Sorling and plastics artist Guillaume Cousin for their collaborative performance and installation A Flutter Along the Nerves.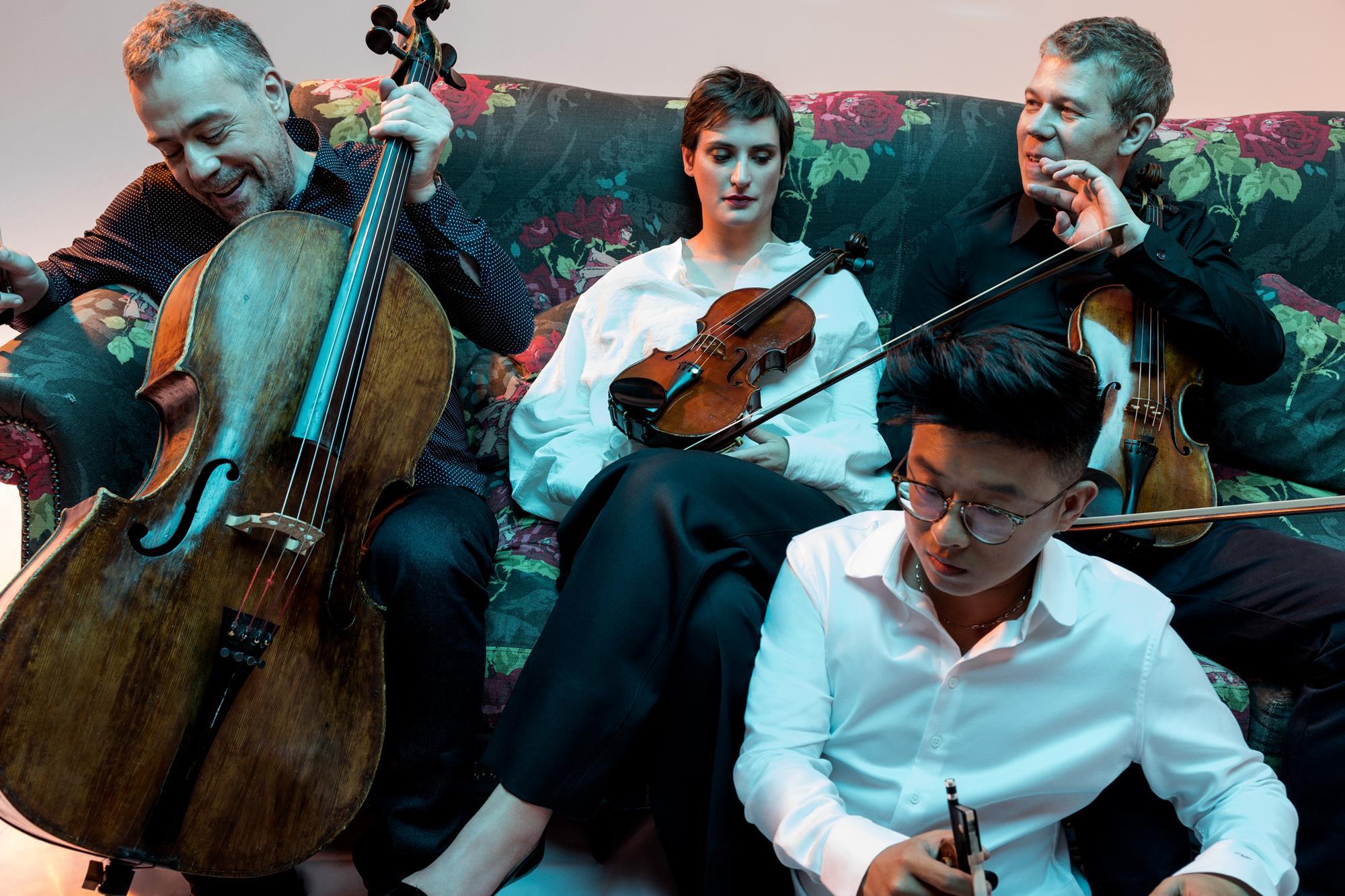 Quatuor Diotima © François-Rousseau
Click here for more information about our 2020 Jazz and New Music Grantees.
---
Jazz & New Music is a program of FACE Foundation in partnership with the Cultural Services of the French Embassy in the United States with the support of the Florence Gould Foundation, the French Ministry of Culture, Institut français-Paris, Bureau Export, and SACEM (Société des Auteurs et Compositeurs de Musique).